Due to the tremendous growth of Fix This! AND Third Coast Guitar Service, the Palatine satellite location for TCGS will be moving effective November 1st, 2016 to
That is only 1.5 miles from our previous location at Fix This!!!!!
Third Coast Guitar Service, Inc. (formerly Bob's Guitar Service) is a full service guitar repair facility located in Chicago's West Loop. The guitar repair tech at the Palatine location is John Slevira.  He can be reached directly at 847-922-9177 and is available Tuesday – Saturdays for all your guitar repair needs in the northwest suburbs!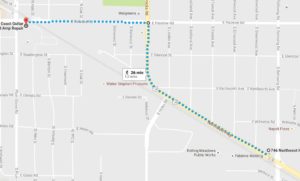 About Third Coast Guitar Service, Inc. (click here to go to their website: ThirdCoastGuitar.com)
We can handle any job, from minor electronics and set-up work, to re-fretting, custom finishing and complete restoration of vintage instruments. Third Coast's main goal is total customer satisfaction, and we stand behind all of our repairs 100%. Unlike most repair shops, 3CGS's focus is customer service. We have been in business since 1990 and have handled over 50,000 repairs in that time. We are factory authorized by all major manufacturers as a "Gold" or "A" level service center. At our 4500 square foot facility on Racine Avenue in Chicago, we stock a variety of manufacturer replacement parts, brand name and boutique pickups, and many vintage parts.
We also have close relationships with many factories so getting that '62 "Fender" logo or the tuner for your 1940's Martin is no sweat. We don't sell amps, we don't sell stomp boxes, we don't even sell guitars. Our only business is making your guitar sound, feel and look just the way you always knew it could.

Over the past few years, we often tend to defy the importance of good lifestyle in one way or the other. Still medicines still help us. So it's no wonder that internet drugstores have grown in vogue over the past 10 years. There are medicaments only for women. Presently thousands articles were published about is there generic cialis. Maybe every adult has heard at least some about "is there a generic drug for cialis". Questions, like "cialis generic", refer to different types of heartiness problems. Sexual soundness is an significant part of a man's life, no matter his age etc. If you choose to order drugs like Viagra online, if possible get a valid formula first. Online doctor services are the only safe variation if you want to get remedies, like Viagra, online.